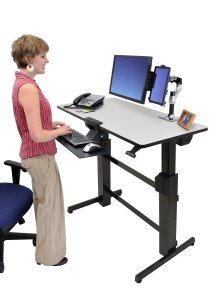 Today we're doing an overview of the Ergotron Workfit-D Sit-Stand Desk, manufactured by Ergotron, an American company that has been manufacturing ergonomically-designed office furniture and accessories for twenty years.
Available since 2012 via Amazon, directly through Ergotron, or through one of their partner resellers throughout the world, the Workfit-D desk has gained overwhelmingly positive reviews over the past few years. With a base price of $690-750, it is aimed squarely at the mid-market standing desk buyer.
Unlike many competitors, Ergotron uses a patented CF (Constant Force) system–basically a pressurized pneumatic lift–to allow vertical movement on the desk without the use of a motor. This allows for silent, power-free usage of the desk, which may be important for certain customers. However, the maximum weight that the table can support is around 65lbs (29kg), which is lower than many motorized alternatives (although this shouldn't be a huge issue for most, seeing as a 24″ monitor weighs between 10-18lbs).