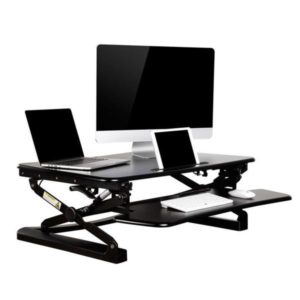 Between a traditional adjustable standing desk and something more portable, like the Roost laptop stand, or the previously reviewed  Loctek SL1 Sit-Stand Laptop Arm, is this: the Flexispot Sit-Stand Riser Workstation.
Whether you don't want to spend $500-$1,500+ on a full standing desk setup, don't want to/can't get rid of your current table, need something a bit more portable, or just need something to use part-time, this is the standing desk alternative for you.
All you need to do (beyond some simple initial assembly) is to put it on top of a table (30in depth minimum), set up your laptop and/or monitors on top of it. then you're ready to go!
Turn any desk into a standing desk–simply.
What Comes In The Box
The Flexispot ClassicRiser comes mostly assembled, in a pretty large, HEAVY box. You can tell right away that this thing is sturdily built.
The only real setup involves attaching the keyboard/mouse "tray" (with four hand screws), and snapping a few plastic parts onto the metal frame to basically just improve aesthetics.
I was able to open the box, take it out, assemble everything, and have it on my table within 10 minutes.
My Experience
I've had a great time using my Flexispot sit-stand desk (classic 35″ height, black model). I currently have my wireless keyboard and wireless mouse on the keyboard tray, a 24″ monitor on top of the main area (on top of a couple boxes, as I haven't purchased a proper VESA monitor arm yet), and two speakers on either side of my monitor.
The actual act of raising the desk is pretty effortless–just grip the levers on each side of the desk and gently raise the desk up. It takes about 3 seconds from collapsed to fully-raised (see the video below).
Note that I'm about 6'3″ (189cm), and when fully-raised the Flexispot is just a hair too low for me–would love if it was just an inch or two higher. If you're shorter, it is probably perfect for you (remember that you can raise it to any level).
Quality, Warranty, and Returns
Quality is top-notch–I have not noticed any usability issues in the months I have been using the desk.
The work surface is made of an environmentally friendly medium-density fiberboard, which meets the high standards of the CARB and FSC, and the mechanisms have undergone a fatigue test of 6,000 height adjustments, so you should be getting years of use out of your purchase.
Regarding the warranty, all height adjustable desks Flexispot sells come standard with a 5-year warranty on the frame, controller, and switch; and a 3-year warranty on the motor (if applicable), electronics and mechanisms. Not bad!
I did have an issue where one of the screws was broken on the side of the desk on arrival, which made setting it up impossible. I e-mailed support, and they sent a replacement part out within a couple days.
The only negative I see so far is that after moving it a few times, and having various things on the desk, I have noticed some scratches showing up on the plastic-y finish of the desk. Because of this, you'll need to be careful putting anything with a rough surface on the desk, as if it gets dragged around it may cause blemishes. (The marks are purely aesthetical though, and do not affect the usability of the sit-stand desk.)
Other Flexispot Products
Flexispot also makes a full assortment of similar riser-style sit-stand desks that are a bit smaller, larger, or uniquely shaped to fit certain dimensions (e.g. corner desks).
They also have a range of standing desks (both manual and electrical, priced from $369.99 to $684.99), and monitor arms specially designed to work in tandem with their other products (priced from $39.99 to $144.99). They even designed and manufacture their own standing mats and desk-compatible exercise equipment!
Although I haven't personally tested any of their other products, if they are of similar quality to the unit reviewed here, they're a great value for the money.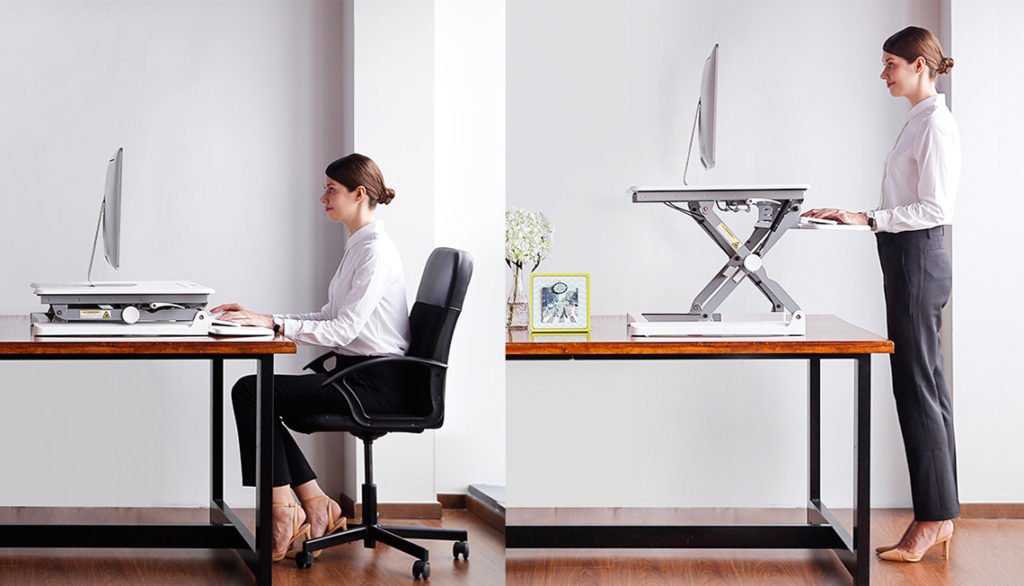 Conclusion
I'm currently writing this review using the Flexispot desk, set up on a folding table in a friend's house where I'm staying for a bit while visiting some National Parks out west. Having used it for a few months now I can confidently say that it has been a huge boon to my productivity and to my health.
Of course, if I have the option to use my giant, $1,500 electrical standing desk that I have set up at home, I'll use it every time. For every other situation (at least where I'm able to transport the Flexispot around), I'll be using this. (And for lightweight travel I'll be sticking with my Roost laptop stand on top of some books or a box.)
Find out more about the Flexispot workstation (including purchasing options) on the Flexispot web site.
UPDATE February 2017: save $15 off your purchase by using this link to buy directly from Flexispot.
Note: I was provided with a test unit direct from the manufacturer in exchange for an honest review.