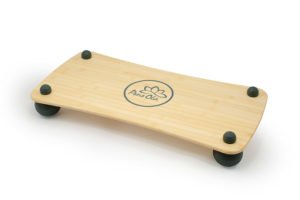 Today I'm reviewing the Pono Ola balance board, which can serve as a useful accessory alongside a standing desk.
Marketed primarily as a core-strengthening tool, for use with yoga or other exercise activities, the Pono Ola can also be used as either something to stand on while working at your standing desk (in place of a standing mat), or as a way to loosen up your lower body after standing for extended periods of time (this is what I ended up doing–see below).
The Story
Husband and wife couple Jeff and Danielle, based in San Jose, California, were feeling "overwhelmed from physical and emotional exhaustion" from supporting two business and raising two children. The Pono Board was built from a need to bring "balanced living" into their lives.
When we originally designed the Pono Board we wanted something that we could use for both work and play. It's a tool that keeps us refreshed at work and challenges our fitness. We use it at a standing desk and sometimes even for washing dishes and for simple work tasks, or it can be incorporated into almost any fitness exercise. The Pono Board is also a way for us keep ourselves physically and emotionally in balance.
What Comes In The Box + Inflation
The board comes fully assembled (with the "feet" inflated) in the box, along with a third-party inflation tool for when the feet need more air.
Inflation is simple–just attach the needle-type end to the inflation tool, stick it in the underside of the feet, and pump a few times with your hands. You'll know when the feet are inflated as they'll be relatively firm to the touch.
And that's about it! Very simple to setup and use right out of the box.
My Experience
I already have a standing desk, a standing mat, and a chair in my workspace, and it would be annoying to swap these out to use the Pono Ola board whenever I wanted to stand. So, what I did was put the Pono Ola board off to the side to use as a way to exercise my legs and ankles after long bouts of standing.
After standing for a bit and before bringing my chair over to sit down, I'll take a few steps over to my Pono Board and step on top of it. Having skateboarded a bit in my younger days, I like to step on the front and sides of the board and almost flip it over, which exercises my legs, feet, and core (I'm usually barefoot while working at home, but you can wear shoes while using the Pono Board as well). Besides being good to get circulation into your lower half, it's quite fun too!
See the below video for ideas of how to use the board effectively. This link also shows some more ideas of how to use the Pono Board in a work environment.
Quality, Warranty, and Returns
The board itself is a single piece of lacquered bamboo, and the feet are a thick-walled rubber composite–everything feels very solid and well-made.
The warranty and return window on Pono boards is a bit scant at only 30 days from purchase ("shipping, handling, and restocking fees may apply").
However, there aren't any moving parts–it's basically just a slab of bamboo with rubber feets on it–so I can't imagine that anything would go wrong with it (I had no issues personally while using it for three months).
Pono Board 2.0
Although the original Pono Ola is still for sale over at the Pono Ola website, they actually have a new version out now — version 2.0.
The main benefit of this redesigned version is that the feet are 2X larger, allowing for 2X the movement, and 2X the core workout.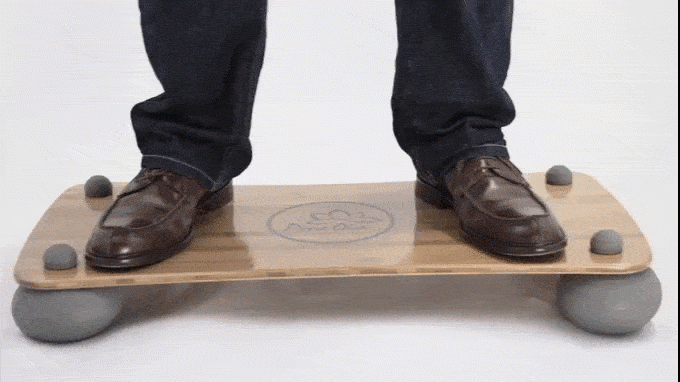 Conclusion
I found that having the Pono Ola board around my office was a definite plus for me.
I don't consider it a "must-have" accessory, but I did enjoy stepping on it on a daily basis to loosen up my feet and legs after standing for hours at a time.
UPDATE March 2018: The original Pono Ola board is no longer available for sale on the Pono Ola website, but you can buy one of their new 2.0 boards — with larger feet for a better balancing experience — for $185 here.