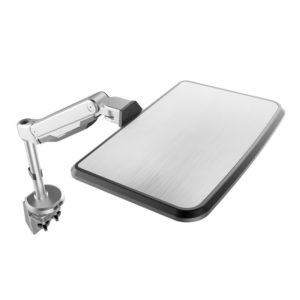 Desktops are becoming more and more scarce nowadays, as more people choose to carry around their laptops wherever they go. Even those with a fixed office or desk somewhere would rather rely on one single computer instead of dealing with the hassle of keeping a desktop and a laptop synced together all the time. And, with the speed and portability upgrades to laptops over the past few years, it's no wonder why this is the case.
If you're lucky enough to have your own private desk at home or work, and buy an external monitor, Bluetooth keyboard and mouse, there is the option to have an ergonomic workspace without breaking the bank. There are multiple companies making products of various designs and capabilities that fulfill the task of basically raising your monitor (and often keyboard/mouse) up off of your main desk surface, one of them being Loctek.
If you do a quick search on the web, you'll see all manner of devices designed to raise your screen and peripherals to the point where it is of ergonomic benefit to you. Where the Loctek S1L (and it's cousin, the S2L, which has an additional point of motion on the arm attachment) shines is its undeniable high-quality design and manufacturing. While competing units can often look and feel a bit out of place when compared to the desk/surface it is attached to, the S1L is aesthetically-pleasing in just about every way.
There is no color option for either model, but both the S1L and the S2L come in a matte silver color that should work with just about any color desk. Loctek mentions on their site that the look is designed to perfectly compliment your Macbook or Macbook Pro (silver, of course), but I also found it to be the perfect look for my Dell XPS 13 as well.
Each accommodates laptop/screens of up to 15.4 lbs (easily dealing with the largest of laptops, and even most late-model 24″ monitors).
Installation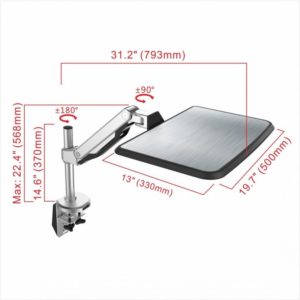 There is no base to the S1L/S2L, which may limit its use for some of you. Included in the package however is both a grommet-type installation kit (pictured above, to attach to those holes you see in a lot of prefabricated desk setups nowadays) as well as a clamp kit (pictured below, to attach to the edge of a desk, in case you don't have a grommet hole or if the hole is already being used or isn't positioned right). There is also a separate wall-attachment version, if you would prefer that (for an extra $20).
I chose the clamp option, as my one grommet hole was already being used to send cables for my main monitor and other desktop peripherals. The clamp can fit all sizes of desktop surfaces, from 0.79″-4.73″ thick, so you shouldn't have any issue attaching to most desk edges (as long as where you are attaching it to stick out a bit from the sides of the desk of course, which isn't usually an issue with any type of work-style desk).
Installation took a grand total of ten minutes or so, from unpacking the thing to having it attached to my desk and ready to go.
Once you set the position of the arm to a height that is good for you, it is easy to set the tension adjustments to keep it more or less in place exactly where you want it (just loosen it up to move it around easily once more).
Operation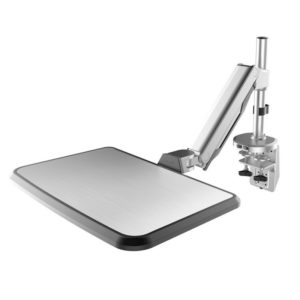 The Loctek S1L is great for those looking to either add a laptop to their desk setup, or use their laptop as the main computing platform at their desk. Because of the compact design of the arm, it allows you to easily move the entire setup out of the way whenever you need to use the desk surface to write on, for instance (I'd say to watch the cords, but luckily they have a simple cable management system built-in!).
Driven by a gas spring counterbalance, movement/repositioning/height adjustment of the arm is a cinch. The arm moves very easily, both vertically and laterally, without being too easy to knock out of position once you have it set up just right.
One unfortunate thing is that the surface is really only big enough to fit your laptop itself, which means that your Bluetooth keyboard and/or mouse will have to be positioned elsewhere. This should be too much of an issue, as they really should be on the same level as your laptop anyway (remember to optimally position your keyboard and mouse at a level where your elbows bend about 90 degrees, while your monitor should be directly in front of your eyes if you are looking straight forward without bending your neck).
I would not recommend using your laptop in this position for extended amounts of time without an external mouse and keyboard, as you're going to be bending your neck quite a bit if you have it set to a lower height, or having your wrists raised up if it is set higher (which can lead to carpal tunnel). Because of this fact I can only really recommend this for infrequent use (such as at a doctor's office), for those that want to store their laptop up off of their desk, or for use with external peripherals (placed on the desk or some other surface).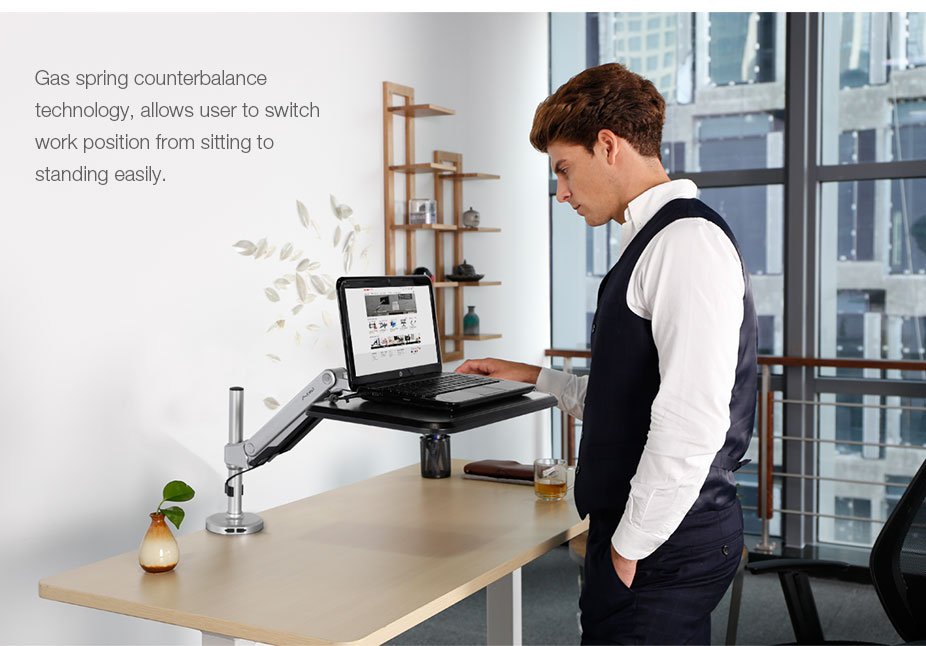 Conclusion
Made of aircraft-grade aluminum, I can see my S1L lasting quite a long time. The quality of the unit truly is top-of-the-line, and far better than any other similar unit I have used. The only worry I have is if/when the gas spring counterbalance fails on me (as I have seen this happen with unrelated appliances before). My guess is that that wouldn't happen for a very long time, and we'll probably all be using VR by then, so I'm not going to worry too much about it. 🙂
For reference, I do indeed have a desktop PC at my desk, so this is great for having the laptop available but up off of the desk, so that is a bit less cluttered (I used to have to keep shuffling my laptop around the desk, to get it out of the way at times).
Overall, I'm very pleased with the Loctek's finish and easy of use, and will continue using it for the foreseeable future.
*
The Loctek S1L is now available via Amazon.com, and if you act quick you can take advantage of their current $100 off offer ($199.99).
You can also find out more about the S1L, including specs and dimensions, over at the Loctek website.
Note: I was supplied with a demo unit in order to test and write this review.