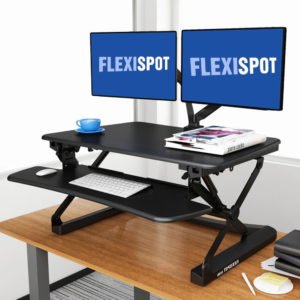 Although it looks very similar to a product I reviewed a while back, Flexispot has created version two of their very popular sit-stand riser, incorporating a few improvements along the way.
Although nothing to really take note of if you already have version one of the desk add-on, Flexispot has improved on an already good product, making it a great choice for anyone who needs the portability of a desk riser, or doesn't want to spend at least twice as much on a full-size sit-stand desk.
Purchasing Options
You can purchase the ClassicRiser standing desk converter via the Flexispot website ($15 coupon if purchased through this link) in a variety of sizes and finishes.
The "average" size is a 35″ (89 cm), but they offer it in a smaller (27″/69 cm), and larger version (a massive 47″/120 cm) as well. There is also a 41″ (104 cm) version that is shaped to fit into corners better.
Finishes come in the classic black or white, as with the V1, but they have also added a couple wood finishes as well: river walnut and mahogany.
There is also a version called the CompactRiser which is only 27″ (69 cm) or 32″ (81 cm), and features a much smaller workspace (only large enough for one monitor).
You may also purchase via Amazon.com, but the price is usually the same or better on the Flexispot website (both offer free shipping).
What Comes In The Box
Just like the previous model, the Flexispot ClassicRiser V2 comes mostly assembled, in a large, HEAVY box.
The only setup involved would be attaching the keyboard/mouse/laptop tray (with four hand screws), and snapping a few plastic parts onto the metal frame to improve aesthetics.
I was able to open the box, take it out, assemble everything, and have it on my table within 10 minutes — same as V1.
What's Improved
The improvements are relatively minor, and include:
One pull handle versus two on the old model, allowing for one-hand operation from raising or lowering the desk. One less handle also means one less potentially breakable part (and, I'm sure, lower manufacturing cost for Flexispot. A win-win for both manufacturer and consumer.
Removal of the slot on the front of the main work surface. This was an odd feature choice that I never really used, but suppose it was a place to stand up your phone, or put pens/pencils…? I prefer the clean look without it.
The warranty on the raise/lower arm/mechanism was increased from 3 years to 5 years.
Please note that on the product page on Flexispot.com, they haven't updated some of the product photos and videos to show the lack of handle/groove yet.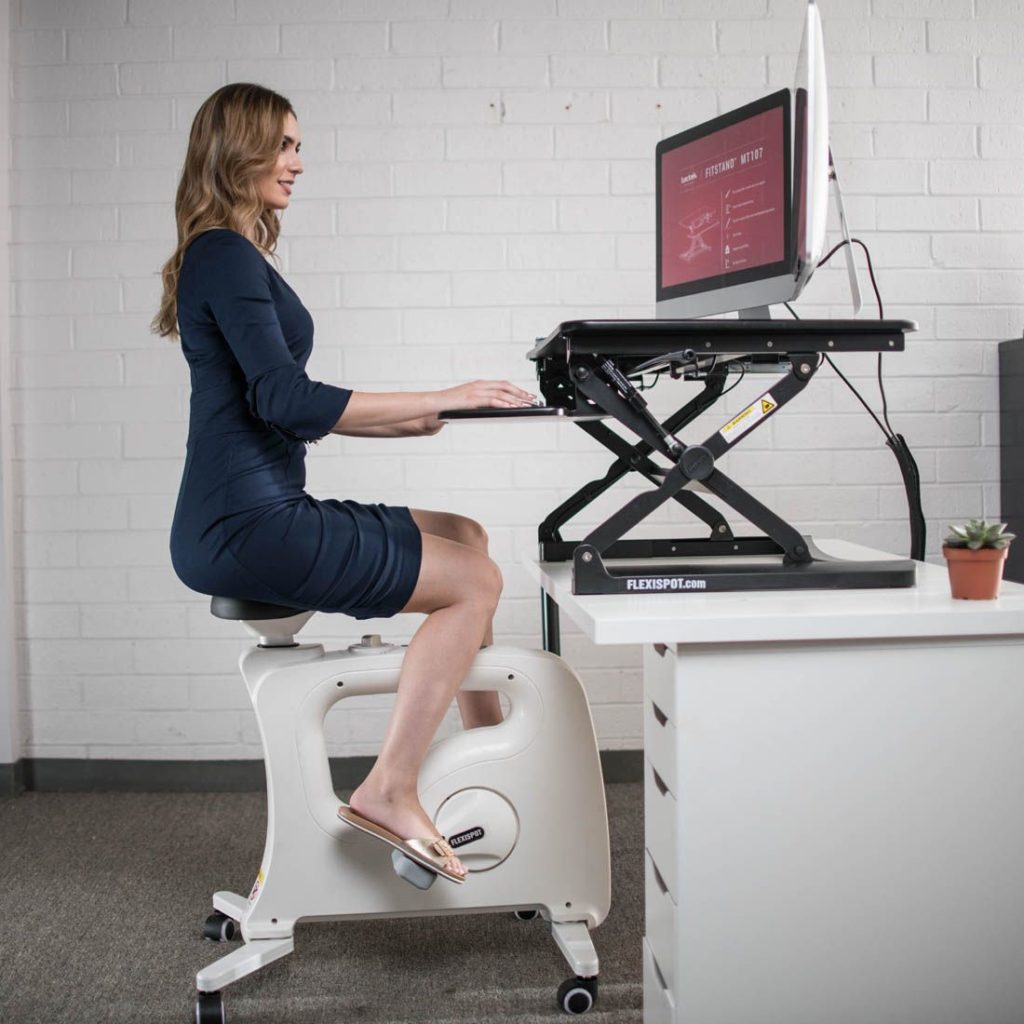 My Experience
Almost two years later, and I'm still using my 35″ Black V1 ClassicRiser whenever I set up shop to work remotely for a while anywhere. It's big enough that I won't bother to load it into my car unless I'll be somewhere over a week, but not too large where I hesitate to bring it if I'll be somewhere for a while. 
Since most AirBNB's/hotels don't have a standing desk, I just put this on any surface (desk, counter, kitchen table) and instantly transform the space into a standing desk. In some cases I bring my own folding table and put the ClassicRiser on top of it.
The nicest feature of the V2 sit-stand riser is the fact you can raise and lower it with one hand. Not a huge shift in usability, but it's a nice upgrade.
Still wish that they would have built in a feature to push the keyboard tray inside of the unit, to get it out of the way when not in use or in transit (such as what the Trendesk E1 riser has).
Note that I'm about 6'3″ (189cm), and when fully-raised the Flexispot is just a hair too low for me — would love if it was just an inch or two higher. If you're shorter, it is probably perfect for you (remember that you can raise it to any level). (Note that the Flexispot website says it is meant for people 6'5″ and lower, but apparently they use a different style of measurement, or their monitor/monitor arm is raised up higher than mine is.)
Quality, Warranty, and Returns
The work surface is made of an environmentally friendly medium-density fiberboard, which meets the high standards of the CARB and FSC, and the mechanisms have undergone a fatigue test of 6,000 height adjustments, so you should be getting years of use out of your purchase.
All height adjustable desks Flexispot sells come standard with a 5-year warranty on the frame, desktop, and mechanisms. This was beefed up at the end of 2016, as previously they only gave you a 3-year warranty on the mechanisms (the raise/lower arm).
The work surface still shows scratches after using it for a bit (at least on the black one I received). To be fair, is was all caused my me moving the riser around from place to place, so be careful and cover it with a towel or something when moving to avoid making any (purely aesthetic) marks.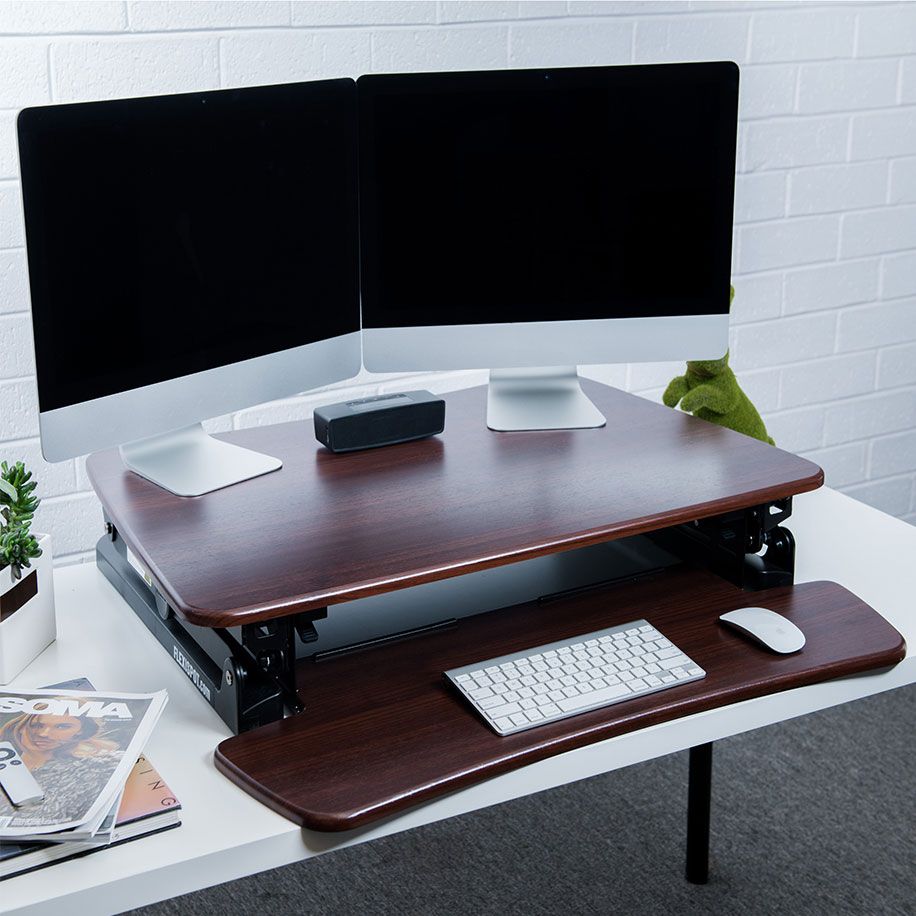 Other Flexispot Products
Flexispot also makes a full assortment of similar riser-style sit-stand desks that are a bit smaller, larger, or uniquely shaped to fit certain dimensions (e.g. corner desks).
They also have a range of standing desks (both manual and electrical, priced from $369.99 to $684.99), and monitor arms specially designed to work in tandem with their other products (priced from $39.99 to $144.99). They even designed and manufacture their own standing mats and desk-compatible exercise equipment!
Although I haven't personally tested any of their other products, if they are of similar quality to the unit reviewed here, they're a great value for the money.
Conclusion & Purchasing
Nothing earth-shattering as far as the upgrades go, but they're nice to have. This was already a very decent option if you were looking for a sit-stand riser desk add-on, and now it's an even better option.
I'm going to stick with my full-size standing desk when at home, but when I'm on the road, my ClassicRiser is my go-to option.
Available on Flexispot.com, as well as on Amazon.com.
Save $15 off your purchase by using this link to buy directly from Flexispot.
Note: I was provided with a test unit direct from the manufacturer in exchange for an honest review.