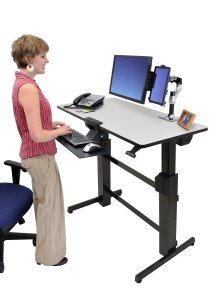 Today we're doing an overview of the Ergotron Workfit-D Sit-Stand Desk, manufactured by Ergotron, an American company that has been manufacturing ergonomically-designed office furniture and accessories for twenty years.
Available since 2012 via Amazon, directly through Ergotron, or through one of their partner resellers throughout the world, the Workfit-D desk has gained overwhelmingly positive reviews over the past few years. With a base price of $690-750, it is aimed squarely at the mid-market standing desk buyer.
Unlike many competitors, Ergotron uses a patented CF (Constant Force) system–basically a pressurized pneumatic lift–to allow vertical movement on the desk without the use of a motor. This allows for silent, power-free usage of the desk, which may be important for certain customers. However, the maximum weight that the table can support is around 65lbs (29kg), which is lower than many motorized alternatives (although this shouldn't be a huge issue for most, seeing as a 24″ monitor weighs between 10-18lbs).
Some owners haven't liked the double crossbars the run across the back of the desk, meant to provide additional support and stability. People found that they often kick the bars with their feet while using the desk in a traditional (sitting) fashion. Also, because of the 'manual' lifting required, some owners with back issues have reported that they prefer motorized desks over this particular model.
Desk Size, Specs, & Vertical Lift
The desk surface is mid-sized, with a total area of 47.6″ x 23.5″ x .87″ (121 x 60 x 2.2 cm). The weight capacity is 65lbs–lower than motorized desks, but shouldn't be an issue with most customers (unless you like to sleep on your desk). The lowest height is 30.6″ (78 cm), while the maximum height is 50.6″ (129 cm), which is a vertical difference of  20″ (51cm). Weight is 103lbs (47kg).
Setup
Setup is on the easier side, as there is no motor or wires to deal with (although there is a single 'brake cable'). The biggest thing to note is that you should read the instructions and do the steps in the order written, as otherwise you could end up having to redo everything, or possibly damaging the desk (especially when referring to the 'stop screws', which should not be removed or over-tightened).
You'll need a Phillips-head screwdriver, a drill, a level, and a 14mm socket wrench to put the table together. You'll also need an additional person for the last step, which is turning the desk upright. Users report average build time to be one hour, from unboxing to finished product (without additional accessories).
There is an instructional video available on the Ergotron web site, as well as a downloadable PDF.
Warranty
Ergotron offers a Five-Year warranty on this particular desk. Overall, customers haven't had many issues with reliability or any parts of the desk in particular breaking on them. Some have complained that there were quality control issues when shipped from the factory, so it's worth checking your desk thoroughly upon arrival/setup for any problems it may have.
Conclusion
The Ergotron is a solid choice at a slightly above-average price point (for non-motorized options), especially if looking for a non-electric, motor-free standing desk that doesn't involve any cranking. If you don't mind the lower weight capacity (65lbs), crossbars, and average-size work surface, and have a good back, the verdict is that this desk should serve your needs for years to come.
Be aware that the base model doesn't not come with a keyboard tray or monitor arm, so be prepared to buy those separately, either through Ergotron or a third party (the cheaper option).
Find more about the Ergotron Workfit-D desk at Amazon.com.
Note: I do not own, nor have I personally tried this desk, so this review is compiled via comments, interviews, and reviews from current and past Ergotron Workfit-D owners.