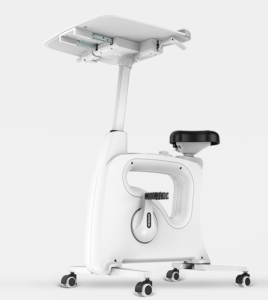 If you've done your research into the world of sit-stand desk you've most likely heard of treadmill standing desks. But have you ever seen a stationary bike + computer desk combo? Well that's exactly what Flexispot — creator of the previously reviewed Sit-Stand Desktop Riser — has come up with.
Combining the aspects of a traditional exercise machine with a tray large enough to accommodate a laptop, mouse, and more, the Deskcise Pro combines the best of both worlds. What's more, you can even use it as a traditional standing desk by just stepping off of the bike and standing in front of the tray, much as you would with any other vanilla standing desk.
What Comes In The Box
The Deskcise Pro comes in a large, heavy box (75 lbs or so), so you may need some help to bring it inside.
That being said, it comes fully pre-assembled, so no tools or anything are required once you pull it out. Simple remove the box, attach the table, adjust the table and seat height to your liking, and you're ready to go! (There is a hex key provided for the one-time attachment of the tray table to the frame, but that's it.)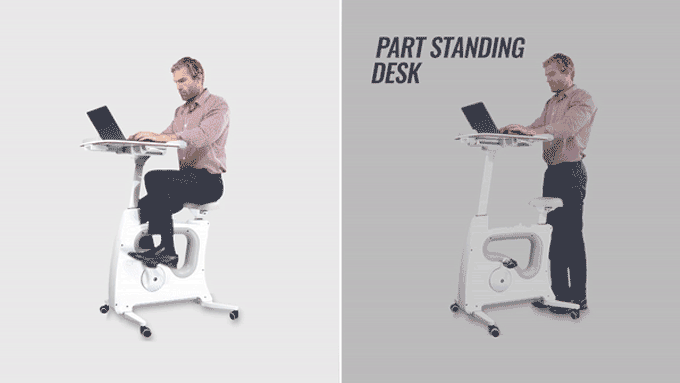 My Experience
After unpacking the bike and setting it up in my living room, it was pretty straightforward to just adjust the seat and desk height (to the highest setting, in my case) to my liking. As it is an entirely self-contained unit without the need for any setup, this process took only a minute or so.
The actual act of pedaling is very smooth and quiet, so no need to worry if this is placed in a common space. There is a manual dial on the unit with eight resistance settings, each step up requiring more pedal power from your legs to move the internal flywheel.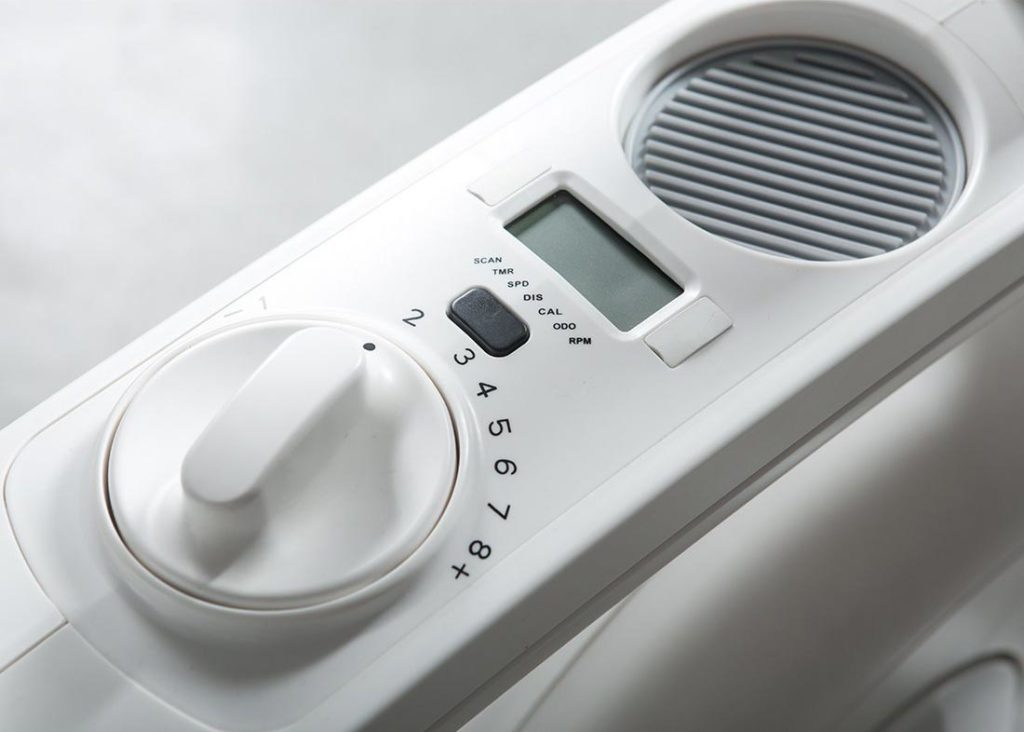 Above the dial is a simple LCD screen which can track stats such as calories burned, equivalent distance pedaled, and time elapsed. (2 AA batteries are needed to power the LCD display.)
The seat is comfortable to sit on for extended periods of time, which was my main concern when first trying out the Deskcise.
The tray itself is large enough for a laptop, tablet, or magazine, but not much else. If you have a larger-footprint laptop, you may find it tough to find enough room to use an external mouse, if you have one (I personally can't stand using touchpads for long periods of time, but luckily my laptop is only 13″). I would have preferred the ability to slightly tilt the desk on an angle, but that option is not present with this first incarnation of the product.
The ergonomics of the unit are easy on the body, as the tray table can be moved in two axises (up-down and forward-back), while the seat can be moved vertically. With a little bit of adjustment you should be able to find a setting that works perfectly for you — provided you aren't outside of the recommended height range (see below).
After using the unit off and on for a couple of weeks, I found that it is a great desk to use when performing routine tasks on my laptop, such as browsing the web, reading e-mails, etc. I did find that I wanted to move my laptop over to my regular standing desk/chair setup after 30-60 minutes of constant use, or when I needed to be more focused and couldn't pedal at the same time (such as when doing graphic design work).
Quality, Warranty, and Returns
Quality is top-notch, similar to my previously review Flexispot products.
One may expect that the tray table would wiggle a bit while pedaling, which would be a huge pain when it comes to reading on a digital screen, but luckily that is not the case.
Flexispot provides a 3-year warranty on the frame itself, and a 1-year warranty on the "electronics" (which I am guessing refers to the LCD screen). If a part breaks, they will send a replacement part to you free of charge. If it is anything more serious than that, they will send an entirely new unit out to you for free (you may be required to provide proof of the defect/broken part however).
More information on Flexispot's warranty and coverage can be found here.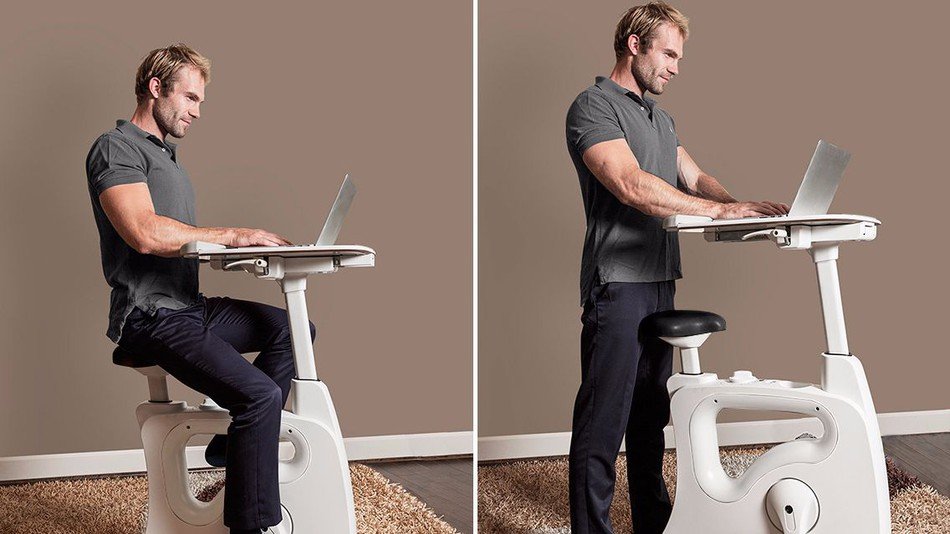 Conclusion
Although not for full-time use, this is a novel approach to the traditional sit-stand desk scene that has a place in the office for those that want to get some exercise while doing routine tasks throughout the day–computer-related or otherwise.
My main gripes are minor: I wish that the table was a bit wider, and that it would tilt on an angle to improve ergonomics a bit. Other than that, great job Flexispot!
The best scenario in my mind would be to use the Deskcise Pro and a laptop/tablet in conjunction with a separate standing desk/chair combo. That way you could easily move your computer back and forth whenever you needed to change tasks, or felt fatigued from pedaling (or because the Deskcise Pro has no seat back, which tired out my back after a while of sustained use).
The current pricing is set at $499, and you can purchase the Flexispot Deskcise Pro via Amazon by clicking here.
UPDATE January 2019: Get $100 off when buying direct from Flexispot using the code "scott100off"! (Just click past the $15 coupon page.)
UPDATE, January 2018: I've continued using my Deskcise Pro along with my sit-stand desk/office chair and have really appreciated having it around. It's particularly useful when my legs start getting restless from too much sitting, or when I just feel like I need to get a bit of energy out in able to focus on something.
UPDATE February 2017: save $15 off your purchase by using this link to buy directly from Flexispot.
Note that I am about 6'3″ in height, which is slightly above the recommended range of 5'1″ – 6'2″. That being said, I was still able to comfortably use the exercise bike portion of the desk setup with no issues. Also, please note that the maximum recommended weight limit is 300 lbs.)
Note: I was provided with a test unit in exchange for my honest review on this site.