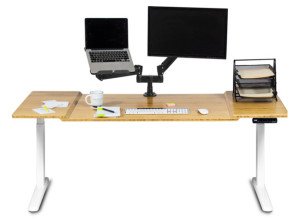 Next on the review list is the highly-rated Fully (formerly known as Ergo Depot) Jarvis Standing Desk. Fully is a long-time manufacturer and dealer of ergonomically fit desks, chairs, and accessories to corporations and end-users alike. The Jarvis is Fully's most highly-reviewed desk, and is manufactured directly by Fully (they created their own line in 2010).
This is a heavy duty, well-constructed desk. One look at the reviews–either on the Fully web site or on Amazon.com will assure you of that. Heavy-duty life capacity, a bevy of options and surfaces to choose from, reasonable price point, unmatched seven-year warranty, and fast, silent adjustment combine to make this desks one of the best on the market right now.
The Jarvis desk isn't for everyone though, so be sure to read to whole review before committing your hard-earned dollars.
Manufacturer
Registered as an official B-Corporation in both California and Oregon, Fully is a for-profit company certified by the nonprofit B Lab to meet rigorous standards of social and environmental performance, accountability, and transparency. From their web site:
We donate a percentage of our profits and hundreds of hours of our time to help to build non-profit organizations that are making the world a better place. We also match contributions that our customers give to non-profits that are important to them.
They sell both their own products (having produced their own line since 2010), as well a internationally acclaimed brands such as HAG, Humanscale, and Varier. They sell multiple version and configurations of the Jarvis desk being reviewed here (a smaller version, a treadmill version, a version with a top that includes drawers, etc.), as well as over a dozen other configurations that they have developed in-house.
Desk Size, Specs, & Vertical Lift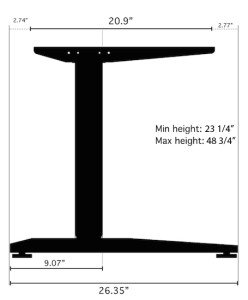 The desk frame itself is about 65lbs and handles desk surfaces from 48″-72″ in width. The legs are 26.35″ long and are 2.75″ wide. The height adjustment goes from 23.25″ – 48.75″ (without the top on, which will add another 1″-1.5″). If you elect to buy a surface direct from the company, they use 1.5″ thick laminated particle board, which is GREENGUARD Indoor Air Quality Certified®.
The height adjustment goes up and down at a rate of 1.5″/s and is relatively quiet when in operation. The maximum weight capacity is 350lbs, so you shouldn't have any issues with weight on top of the desk.
It is made primarily for the American/Canadian markets, thus it runs at 110V using a 200W (0.2W standby) transformer.
Setup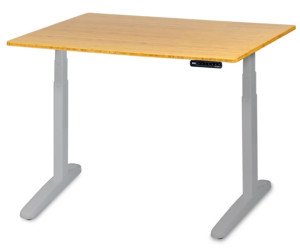 Setup is on the easier side, as there is no motor or wires to deal with (although there is a single 'brake cable'). The biggest thing to note is that you should read the instructions and do the steps in the order written, as otherwise you could end up having to redo everything, or possibly damaging the desk (especially when referring to the 'stop screws', which should not be removed or over-tightened).
You'll need a Phillips-head screwdriver, a drill, a level, and a 14mm socket wrench to put the table together. You'll also need an additional person for the last step, which is turning the desk upright. Users report average build time to be one hour, from unboxing to finished product (without additional accessories).
There is an instructional video available on the Fully web site, as well as a downloadable PDF.
Pricing, Options, & Shipping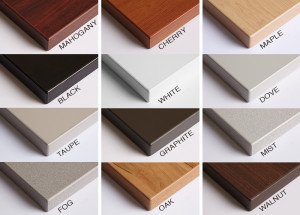 Pricing for the stand only (you need to provide your own surface) currently runs USD$525 on Amazon.com (pricing is the same for both gray and black color options). If you'd like to go your own route as far as finding/creating a top, you can find a few nice options on Amazon, such as Grizzly brand solid maple butcher block-style tops in a few different sizes (which is what I have on my standing desk at home, as I prefer the weight and durability). There are also some cheaper options available through retailers such as Ikea.
If you'd prefer to buy it with a top included in the same shipment, there are a few options direct from the manufacturer  (remember, you still need to install it yourself either way). Fully offers 12 types of eco-friendly laminate tops ($160, $229, $279 for 48″x30″, 60″x30″, and 72″x30″ size options), and a bamboo top option ($260-$399 for sizes and configurations ranging from 48″x30″ to 72″x30″).
The manufacturer also offers a variety of upgrades at various price points, including CPU holders, upgraded programmable controls, wire management systems, monitor arms, pencil trays, and standing mats.
Shipping is free to U.S. residential addresses (the package weight is a relatively light 68lbs [31kg] for the frame). Canadian customers are only able to purchase the frame setup by itself, so you'll need to go the aforementioned buy-on-Amazon route for your surface.
Warranty & Support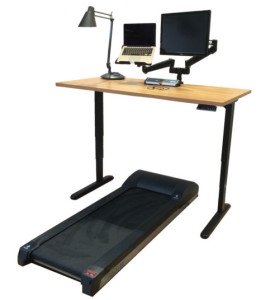 Most quality standing desks have an average warranty of five years, but Fully one-ups the competition and provides a full seven year warranty on the Jarvis desk.
Covered by the warranty:
The Jarvis frame itself, including the electric motors, control box, and switch. Basically everything that comes in the box.
Performance according to published specifications.
Defective materials or workmanship in frame or desk top.
Defects affecting operation of the frame and height adjusting mechanisms.
The only thing the warranty doesn't cover is wear-and-tear or the desktop, improper setup/repair, and misuse. Not too shabby.
Customer service and support has been touted as 'excellent' by many a customer.
Downsides?
The biggest complaint is that some Jarvis standing desk users have reported that the desk feels a bit wobbly, especially if (like me) you tend to lean on it at times when using it standing up. This can cause wobbly monitors, even when you are typing on your keyboard (especially when using the keyboard trap, if you opted for that). Apparently this is not an issue when using it in sitting mode, and can be lessened by using your keyboard on top of the desk, instead of the tray (point being, don't buy the keyboard tray).
Other than that, there really isn't much to gripe about!
Conclusion
The Fully Jarvis standing desk is one of the best bangs for your buck. Pretty much everything is top-notch, with the only downside being the wobbly-ness that can happen when the desk is raised (this has proved very distracting to a small number of owners, but most seem to not notice or care much).
If you live near Portland, OR or San Francisco, CA you can check out Fully's showrooms to try out the desk (and their line of chairs and accessories) for yourself.
Find more about the Fully Jarvis sit-stand desk (including customer reviews) at Amazon.com (sold without surface–here's a link to a premium maple 30″x60″ top) or direct on the Fully web site (sold with or without surface).
Note: I do not own this desk, so this review is compiled via comments, interviews, and reviews from current and past Fully Jarvis desk owners. I was not compensated in any way by any party to write this review.