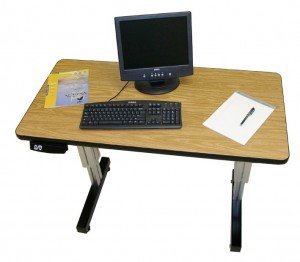 Want an adjustable desk but can't find one that has all of the different features that you're looking for? Well, search no farther than ErgoSource, maker of custom-built ergonomic standing desks. This Minnesota-based company has been specializing in built-to-order desks since 1988, and the combination of options available ensures that everybody will be able to design their own perfect standing desk solution.
After you have selected the basic layout of the desk you are looking for (single level, dual level, corner desk, L-desk), you proceed to select the size, and the the type of adjustment available (manual, hand crank, or electric). Finish up your order by selecting any one of twelve laminates available. The service isn't as inexpensive as buying from one of the other stand-up desk retailers online, but you are ensured a custom-made, quality product built in the USA.
ErgoSource is one of the only vendors I have found that sells kits so that you can build your own standing desk, either in manual, hand crank, or electric varieties. This is a great option if you're the do-it-yourself type that has a spare desk lying around anyway. For those that are even more mechanically inclined, they sell a Levitech Retrofit Hydraulic Lift System, to create your own hydraulic-lift table surface.
Be sure to also check our their selection of standing desk accessories, such as anti-fatigue mats, keyboard trays, monitor stands, document holders, and more.