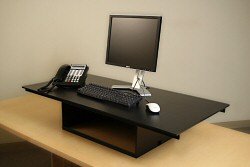 You don't have to sink upwards of $1,000 just to get the experience of using a standing desk–there have been many creative alternatives to standing desks, both custom made and company produced.
Whether you stack Kleenex boxes on top of your existing desk, or pile phone books below it, sometimes going the cheap route can be the best (definitely the cheapest) way of trying before you buy (as long as you aren't too worried about aesthetics, at least temporarily).  I've already reviewed one great laptop stand, but there are plenty of alternatives out there in case that doesn't work for you for whatever reason. There's the Anderlyn desk, a small desk that sits on top of your current desk, and allows more desk real estate for the usage of desktop computers as well as laptops.
You could also opt for the adjustable wire bookshelves or drafting table featured in this Treehugger article, if that's more your style. Both are sub-$100 purchases and can easily be re-purposed in the event that using s standing desk isn't for you, or if you decide you like it and want to upgrade to some proper equipment.