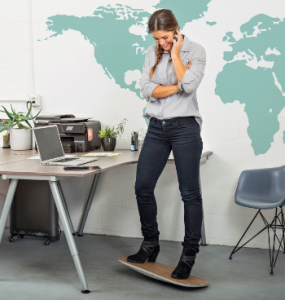 I recently came upon an interesting Indiegogo campaign for the FluidStance Level–a standing desk accessory of sorts. What is it? It's basically a platform that you stand on while at your desk which aims to promote circulation and movement.
From their web site:
The Level by FluidStance is a work platform that elicits subtle, constant movement below your feet to increase your range of motion and heart rate. Developed primarily as a tool for your immediate workspace, it can be used in common areas of both the home and office, or as a complement to a stand-up desk. The patent-pending design allows you to change the overall aesthetics via interchangeable top decks, floating bumpers, and base plates.
Unlike your standard treadmill desk setup, the FluidStance Level is smaller, cheaper, and pretty cool looking. However, the amount of actual exercise you'll be doing is of course quite a bit less.