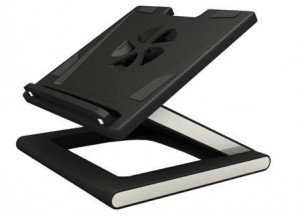 Even when using a standing desk you may the need for some sort of laptop stand (if using a laptop computer, of course). This could be to raise the laptop up to be more level with you gaze, or to put the keyboard on a slight slope to make for easier typing, or to allow more ventilation to keep your laptop cool and extend its life.
One of the better models I've come across is the Z-Lift Desk Stand
(Z-Lift DS). This laptop stand can raise up to a height of almost 10 inches, and features a 4-port USB hub as well as a near-silent cooling fan to circulate air along the bottom of your computer to help keep the internal heat down. It's large enough to accommodate even the largest laptops, and folds flat for easy travel use. Looks pretty slick as well!
It is a bit expensive at $79.95, but it is constructed quite durably and is sure to last many years, outliving a few models of laptops along the way. I personally wish that the fan was able to be turned off on its own (it turns on whenever you plug it into the laptop's USB port, which you need to do to use the USB hub), but I suppose it's always good to have additional airflow under there anyway.
If you're interested in something a bit more portable and don't need the extra height, check out Cooler Master's Notepal Ergostand Notebook Cooler
($29).