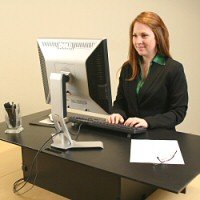 Recently I was notified of a small company selling table-top add-on desks, Anderlyn Desk, that are meant to turn any surface into a standing desk. For those looking to alter their existing desk at a low price point this could be just the thing you're looking for.
Standing desks can be expensive, with many pre-built options starting at $600 or so (of course, you could always build your own). At only $200 (plus $60 shipping outside of California), you can just put this on top of your desk and be ready to go relatively easily. It is adjustable, and has four height levels to accommodate users ranging from 4'11" to 6'7″+.
For more information head over to Anderlyn Desk.
UPDATE, December 2017: Anderlyn's website is down until further notice. Not sure if they went out of business or not, but will update this when I receive more information…