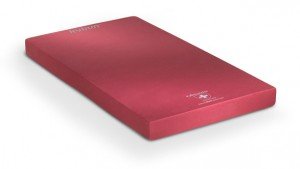 The first few days and weeks of standing half the day or more (at my standing laptop pedestal in the beginning) really took its toll on my legs and lower back. The fact that it was completely unlike what I had spent the better part of my career doing (sitting) was throwing my body a few curve balls. I would often have to sit down and take a break every once in a while when my feel, legs, or back started aching.
Standing next to my desk wearing slippers or just socks definitely didn't help matters. I'm guessing that the added cushioning from a good pair of shoes may have allowed me to go for longer periods without taking a break. Instead of wearing my shoes inside the house on my carpet though, I decided to shop around for a good standing "anti-fatigue" mat.
Standing mats come in two basic varieties: a less expensive foam-type mat, and a more expensive gel-type. The difference is, of course, what they are made out of. You pay a premium for the gel-type mats because they feel a bit squishier and pleasant than the ordinary foam varieties. I was able to test both out at a local office supplies store prior to purchasing and decided to go with the more expensive gel-type standing mat. It cost quite a bit more than the foam ones, but it looked nicer and felt better on my feet. If I'm going to go all-out on a standing desk, I think I might as well buy a great floor mat to go with it!
All varieties come in different, styles, cuts, sizes, and colors, so if at all possible choose which you would prefer by actually trying them out in person first. After you do that you can usually go online and purchase something similar to what you want online at a lower cost.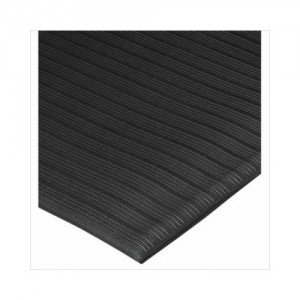 Some good choices available online include:
UPDATE: See what the Canadian Centre for Occupational Health and Safety has to say about standing mats at the workplace.