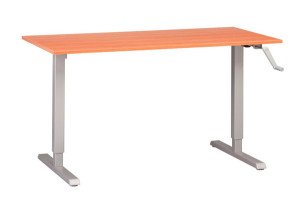 Multitable.com is a standing desk company based in Phoenix, AZ that specializes in their own brand of height-adjustable work surfaces, the ModTable. Offering both hand-crank and electric varieties, MultiTable.com offers the choice to buy only the steel frame and use your own work surface on top of it for a reduced cost.
Their offerings come in at a bit below average, with the Mod-E line of electrically-adjustable height desks coming in as low as $849 (frame + work surface), and their hand-crank variety of desks selling for just $549 (frame + work surface). Opting to use your own work surface will save you about $70. They also offer a treadmill setup
The ModTable's minimum height is 27" and the maximum height is 46", and both the frames and the desk tops are offered in a choice of four different colors/finishes. A 30 Day Money-Back Guarantee is included with all products sold, and the company offers a 2 Year Warranty against defects. Shipping will run you between $68-78, depending on the product you buy.
More information available on their web site at MultiTable.com.