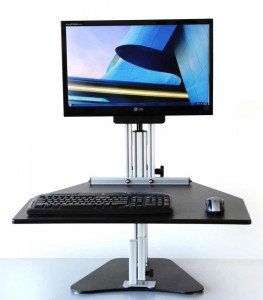 The Kangaroo Pro height-adjustable desk solution is a stylish, unobtrusive way of getting yourself up and out of the chair. These custom-made (you can select from four different finishes, as well as various upgrades/add-ons such as side tables, keyboard extensions, and stabilizing legs) monitor stand+work surfaces feature a metal base and stand, VESA mounts (so that they are compatible with most LCD monitors on the market), and a work area big enough for a full-size keyboard and mouse.
At $500 retail it's not the least expensive option out there, but if you need a standing desk solution that can fit into a tight place this could be your answer. It looks pretty cool to me, and I might very well be a client in the near future (I'm a fan of mobile standing desk solutions, such as the previously reviewed QuikLok Laptop Stand).
Also available is the Kangaroo Pro Junior, which is a slightly smaller version of the Kangaroo Pro (only available in black).
Available for purchase through ErgoPro.