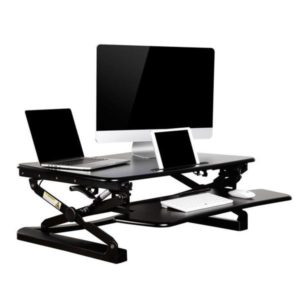 Between a traditional adjustable standing desk and something more portable, like the Roost laptop stand, or the previously reviewed  Loctek SL1 Sit-Stand Laptop Arm, is this: the Flexispot Sit-Stand Riser Workstation.
Whether you don't want to spend $500-$1,500+ on a full standing desk setup, don't want to/can't get rid of your current table, need something a bit more portable, or just need something to use part-time, this is the standing desk alternative for you.
All you need to do (beyond some simple initial assembly) is to put it on top of a table (30in depth minimum), set up your laptop and/or monitors on top of it. then you're ready to go!
Turn any desk into a standing desk–simply.