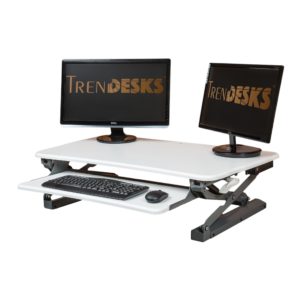 As of late, we have seen a surge in popularity in the segment of on-desk monitor risers (a.k.a. standing desk converters), such as the previously reviewed Flexispot ClassicRiser.  The main advantages of these height-adjustable platforms is that they cost less, and are more mobile (than a full sit-stand desk, at least).
With a height-adjustable riser, it's easy to turn any existing work surface into an impromptu sit-stand workspace–a kitchen table, a folding table, or an old work desk. Most offer accessories that allow one to expand functionality, such as power strips, monitor arms, and document/tablet holders, which allows full use of the space provided.
Today we are reviewing at the E-1 height-adjustable riser, a new product, from a new brand based in the U.S., TrenDesks (a.k.a. SunField LLC).